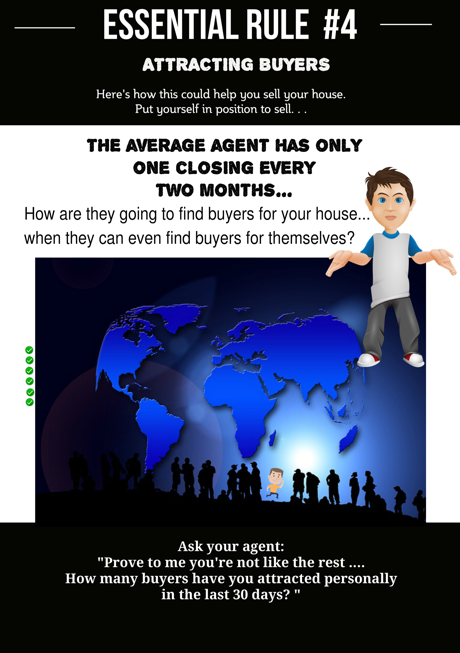 WHAT SYSTEMS DO WE USE TO ATTRACT BUYERS?
We don't share that with our competition, but I can assure you that....
Attracting buyers could drive you crazy!... In any market, your home is competing with new construction around,  new subdivisions that offers updated modern floor plans, Whirlpool tubs, hardwood floors, granite counter tops, stainless steel appliances, decorating allowances, finished basements, discounts points in mortgage loans and more. 
..and that is just the new construction side...
Your home is also competing with your neighbor's homes that are for sale, which they  may be in better condition, better priced and/ or more updated than yours...
Competition for buyers is fierce out there.
The goal is to have your home stand out and attract as many buyers as possible in as few days on the market as possible
Does experience and a successful track record on attracting buyers really matter?– at any time, in any type of market, buyers are a commodity for any agent as we soon realized that early in our careers.
If your Realtor® does not show you how is he/she's  attracting buyers, how do you expect him/her to attract a buyer for your own house? 
We pride ourselves to constantly be challenged in obtaining buyers leads that are ready to buy and have systems in place to do just that  CLICK HERE to get a peek of one our systems in action.