Our Most Read Posts!
       En Español. . .
  Buyers Preferred Service
 Sellers Preferred Service
Short Selling Services 
     Before you hire us. . . .
Jan. 20, 2015
How To Sell Your Own Home in Maryland
: Home Selling Tips & Precautions
How To Sell Your Own Home in Maryland?
Thinking of selling your home yourself?
Thinking on selling your home on your own?
For Sale by Owner (FSBO) There are some people that sell their home the FSBO way.
The majority of these sellers do it because they know the person they are selling it too. Most often this involves family members or close friends.
But in most cases they sell their own home to avoid paying a commission to an agent.
This is a risky move for anyone to try as it reminds me of a time when I met one of my clients for the first time..
First, allow me to introduce myself.
My name is Fernando Herboso, I'm the broker for Maxus Realty Group in Montgomery County Maryland.
I would like to take this opportunity to tell you about this client of mine that had to sell his home and was looking for ways to save money.
He had a dilemma, as he was considering selling his home on his own in an effort to save commission, but he also knew that selling his home as a FSBO was too time consuming and too risky for him.
Luckily he listened to my presentation as he realized that a very small percentage of FSBO are usually successful.
Why try to overcome the odds and take on the difficulties of creating marketing systems just to sell one home?
I reminded him that my systems were already in place as my company spends thousands of dollars each month making them run efficiently for all our listings...
That's when I decided to create a postcard that depicts clearly the difficulties for all For Sale By Owner candidates trying to save on commission fees.. .ignoring the facts that it takes time and money to market a home...if you want to achieve the highest value possible.
Here is what we created:
The odds of overcoming the difficulties in selling a home by creating system from scratch.. .simply does not make any sense these days...
This is why my client realized that he had to employ the services of a full time real estate professional, (that is) if he wanted the odds on his side.
I introduced to all my "Home Selling Systems" one evening at his home. I showed him how we were able to attract buyers for our listings as we multiplied the number of showings by 10 in just the first 7 days we had it listed.
The home was SOLD soon after in just in 27 days, and he was able to save thousands of dollars on commission fees by "NETTING" more money at the closing table.
Should you decide, at any time, that you could benefit from the expertise and skills of a professional Real Estate Agent with a proven track record of success and marketing systems ready to promote your home..
I'm only a phone call away (301-246-0001)
You are under no obligation and I can assure you that our meeting will allow you to explore your options even more so. . .
Should you use a ZESTIMATE to sell your house?
I also invite you to watch this video and see how a Zestimates may or may not help you sell your house...
How To Sell Your Own Home in Maryland
: Home Selling Tips
Nov. 7, 2014
22543 WINDING WOODS WAY

, 

CLARKSBURG

, 

MD

   

20871
A Really Nice Home For Sale 
Large, sophisticated and casual
 Featuring  upgraded appliances, morning room, luxury baths, luxury kitchen  and many more extras..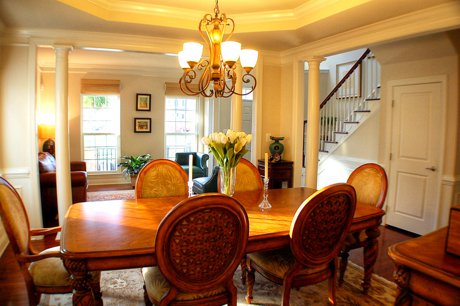 Separate Dining Room...
Deck with a View. . wooded lot!
CALL 301-246-0001 For More Information
Maxus Realty Group is a full service Maryland real estate company operating in Clarksburg Maryland. Our team is dedicated to providing you with assistance in any aspect of real estate within Maryland DC and Northern Virginia areas. Including
Clarksburg Maryland
  Montgomery County,Frederick County , PG County, Washington DC, Arlington, Alexandria,  Fairfax and Loudon County
Let us know if you would like to see this beautiful Home..
    BROKER ♦ REALTOR® 
HERBOSO & ASSOCIATES, LLC  
301.246.0001
22543 WINDING WOODS WAY

, 

CLARKSBURG

, 

MD

   

20871
Oct. 28, 2014
Rent Or Buy - Which Is Better?  
Maryland Real Estate 
This is  a question that I get asked many times in some form or another.Usually, it comes from young couples that are just starting out are wondering?
Rent or Buy? Which is better?
The problem with this question is that

there is no standard answer that fits everyone..
It depends on many personal factors  that when put together, it will paint a clear picture whether you should buy or rent...
Some of this personal factors include, 
What is your monthly income?
What about your existing debts?
How long do you plan to live there?
How much money do you have saved up for the down payment?
What is your credit score?
What is the current real estate market in your area?
What is the current rental market in your area?
Taxes?, marital status?, economic growth of your area?
and on and on..
If you're serious on your decision to buy a home, you should consult with a professional that have a vested interest in helping you succeed.
Millennial is a new term for new age buyers coming into the real estate market
They have seen with their own eyes the real estate bubble that exploded on their parents homes in the 2005 -2007 real estate crash
Precisely why they are now questioning more than ever...
But my advice will always be...
Should you make a decision to buy or not based on what your parents experienced in the past?
or...
Base it on what your needs are on your  personal future?
When does buying a home makes sense?
When it fits your plans!
Rent Or Buy - Which Is Better?  Maryland Real Estate 
Oct. 27, 2014
What Credit Score is Needed to Buy a Home in Maryland ?
First of all,  you might be wondering which credit score mortgage lenders use?
Equifax?

Transunion?

Experian?
I get this question a lot and I'm not sure why?
There's no sense focusing on something that only lenders have control of it, the fact remain that you need to be credit worthy  to be a borrower.
All lender determine your creditworthiness by pulling your credit score.
But if you must know, the answer is your FICO score and that is an standard being used with most lenders in general. 
Your FICO score is a combination of the 3 listed above...which are the three main credit bureaus. 
If you are looking for the perfect "LOWEST CREDIT SCORE" you must have and get the best pricing from a lender...you will need at least 760 points.
If you have any mistakes or missteps inside your credit report, you must deal with them before buying a home if you want the best rates possible...and  in some cases, this could take several months.
Maybe you will find that  your credit score is not sufficient for you to get a loan. Your income and the ratios play an important role in determining how much credit you can get.
This is a very personal conclusion based on your own  credit score, your income ratios, your debt amounts...and a few other important relevant facts. I caution for you NOT TO DISQUALIFY yourself...but have a professional evaluate your whole application for the best advice possible.
In summary, the only thing you have control over your credit score is to keep up diligently with your bills, don't wait until the last minute to pay them, don't  over burden yourself with so much credit and be responsible and strive fro perfection when it comes to paying your bills...
If you have low credit scores, do not get discouraged, there are ways to raise your credit up with the right help...call us if you need assistance on this 301-246-0001.
What it takes to get a loan plus information about grants when you are a first time home buyer?  
What Credit Score is Needed to Buy a Home in Maryland ?
Sept. 23, 2014
Maxus Realty Group is Proud to Introduce..
728 Richmond Avenue Silver Spring
A Brand New Home For Sale 
Elegant | Expansive | Gorgeous | New Construction| Available Now!
A perfect location you could not ask for more..
Just seven miles from the White house, inside the "Beltway" in the Washington Metro area
Brand new construction in the Silver Spring Maryland area. 
Check out all these amazing features inside our exclusive eBrochure | Click Here 
See some of the features in the videos below..
Amazing new construction home steps away from Downtown Silver Spring MD .
First Time offering of this magnificent estate.
Prime location to DC, Silver Spring Downtown, the Metro and the Beltway.
THIS IS NOT A REHAB! but a brand new home from TOP TO BOTTOM constructed in an existing foundation using the latest and most modern materials in and out.
Sprinkler system included..
HUGE Bedrooms and Bathrooms
Wood Floors
All New Construction 
Warranty
      Call 301-246-0001
For The Latest Pricing! 
Impressed? Sell My House too! 
728 Richmond Avenue Silver Spring
| Maryland Home For Sale 
Silver Spring MD Latest Listings
Sept. 9, 2014
Information is power when it comes to buying a new home.
We have been preparing for you and if you are ready 
We will provide you with unbiased opinion about all the new home construction in Clarksburg Maryland 20871
The quality of your builder is not based on their construction workers
Most of them are shared or they work for different builders at the same time
The quality of your builders depends in the quality of materials and the amount of specialized supervision.
As we go towards the last quarter of the year, builders are susceptible to accept lower offers than their Spring and Summer season...
Watch 3 ways how to save money on your next brand new home purchase
Before connecting directly with a single builder out of many...a  simple consultation that brings neutral information with an unbiased party will clear your options. Once you 
have narrowed your choices down to one single community, one builder and one home, you are clear on your goals and ready to work out the details. Let us be that unbiased opinion for you. We can help you choose the right community, the right builder, the right lot, the right model and help you  sign a contract for your dream home.
Clarksburg MD Sample of the Latest Listings
Aug. 30, 2014
How To Buy A Home With Tax ID 
Como Comprar Casa Con Tax ID 
A new program from the U.S. Department  of the Treasury has been implemented  to foster community growth with the use of a Certified CDFI Fund
Un nuevo programa que esta auspiciado por el Departamento del Tesoro de USA esta ayudando a mucha gente latina a comprar casas con solamante un TAX ID
Where to start? What is the first step? Who should you contact first ? 
Por dónde deberia empezar? 
Cual seria su primer paso?
Quien le puede ayudar?
Y lo mas importante?
Cuales son las ventajas y desventajas de comprar una casa ahora. 
Ha habido muchos programas de ayuda para Latinos para comprar casas, pero este nuevo programa ha sido levantado especificamente para ayudar a familias que tienen solamente un tax id
A lot of families are waiting for some type of Inmigration reform to buy a home.
The process has been complicated by the politics in Washington
Ultimately, there are "other" ways t buy a home with just a TAX ID  if you are employed and paying taxes for at least 2 years.
Muchas familias estan esperando de que pasen alguna Reforma de Migracion para aclarear los papeles y fanalmente comprar una casa.
Hay un ambiente politico muy complicado en Washington DC, y por eso la espera de que pasen una ley para ayudar a la gente latina no esta cercana.
Pero en este caso, comprar  una casa con TAX ID puede ser el sendero para que finalment sea un dueño de casa aqui en los Estados Unidos.
¿Que es lo que Ud. necesitaria , y cuanto de enganche será requerido para comprar su casa con tax ID?
Por el momento, Ud esta requerido de poner por lo menos un 20% de enganche para comprar su casa.
Tiene que tomar en cuenta que tambien tiene que pagar  impuestos de propiedad y un seguro de titulo para los dueños que son típicamente pagadas dentro de este 20% que trae de "Down Payment"
Tiene que tomar en cuenta tambien de que los prestamistas quieren asegurar que usted pueda hacer pagos, por eso requieren que ud tenga una buena cantidad de inversion en su propiedad. Por eso le piden los 20% de enganche...y que tenga un historial de empleo por los ultimos dos años.
Pero lo mejor de esto es de que los prestamistas saben que la historia del credito...normalmente  es bien limitado para la gente que no tiene papeles...por eso, este programa no toma mucha atencion a su historia de credito.
La compra de su primera casa es uno de los momentos más importantes de de tu vida. 
Es una decisión que se debe analizar y consultar con personas que tengan experiencia y conocimientos sobre bienes raíces. Por eso, llameme al 301-246-0001 para iniciar un consulta gratis por telefono. 
Buying your first home in this country is sometimes referred as having the American Dream
The dream is not just about owning your own home...The American Dream is traditionally and equal opportunity to seek prosperity in this country for you and your entire family .
STEPS TO BUY A HOME - LOS PASOS PARA COMPRAR SU CASA
Haga en este momento el primer paso.. 
llamenos al 301-246-0001
y comenzamos hacer su sueño una realidad
Fernando Herboso
301-246-0001
Consejos Para Comprar Una Casa en Maryland o Virginia 
How To Buy A Home With Tax ID - Como Comprar Casa Con Tax ID 
Aug. 22, 2014
When Selling Your House. . .
(CHEAP IS EXPENSIVE!)
Nothing is cheap or expensive by itself, but when you compare to something else..based on tangible results, it becomes clear what is the better value
People always base their perceived values on reference points, and those references points are based on what brings you more money at the end of your transaction.
When selling your home, your intent should not be to 
SAVE ON COMMISSION... 
Your intent should be  "What is the best value for me?"
"It does pay to align pricing with your intended purpose"
There are home sellers that are stuck in saving a commission no matter what...even if we can prove them that our method of selling will bring them more money at the closing table..
Being a closed minded consumer in this case is VERY EXPENSIVE
Our unique value proposition is built around being "hassle-free and simple while extracting the last penny of your equity"
Selling your Home? 
Please visit us : www.ReallyNiceHomes.com/selling 
Aug. 13, 2014
The other listing agent told me that they could list my house for less...why should I pay you more?
The question got me thinking...that was a fair question I received from a consumer facing many choices out there..why should they hire me to list their home at my price when there are hundreds at a lower price?
So I prepared this for her...
Dear Home Seller:
There is a difference when someone who wants to "LIST" a property or someone who wants to 'SELL" a property.
There is a difference between being a "customer" or being a "client"
There is a difference between being paid up front for your needs and not caring if you were successful or not..
or someone that will invest money, time, leadership and sacrifice to accomplish your goals and only then.....expect to be paid.
I don't list properties..
I sell them. .
I will protect my client's price
I will market their home
I will negotiate the best price for them
I will negotiate the best terms for them
My services are not on a vending machine...
My services are sold only after  I perform, surpass and achieve my client's goals to the best of their expectations.
"My fees are not an expense...they are an investment for you"
I know agents that can put your home on the MLS for only $95
They are the ones that got their license and soon discovered that. . 
they can't sell a property on talent..
So they did the best next thing..
They reduced their charges on proportion to the value they bring to you...
My advice is..
If you want to "LIST" it..go for the ninety five dollar one....
but, If you want to "SELL" it....my number is 301-246-0001