Our Most Read Posts!
       En Español. . .
  Buyers Preferred Service
 Sellers Preferred Service
Short Selling Services 
     Before you hire us. . . .
Feb. 19, 2015
"Fifty Shades Of Listings Gone Bad "
Q: What's The Longest Its Taken To Sell a House in the Washington DC Metro Area?
Feeling down about the fact that my perfectly lovely house - which is in a different state - has been on the market 110 days with no offers.
Not asking for advise on how to sell my house faster, just wondering what was the longest it took to sell a home in this area?
Maybe it will help me feel better knowing that EVENTUALLY my house will sell.
Question asked and answered on DCUrbanmom.com
A:
This is more for amusement than constructive to help you sell your home faster.
To answer your question, I did a quick search on the MLS to find who has the dubious distinction of having SOLD their home for the longest time period in the Metro area...
There was a house in Washington DC that took 3117 DAYS!! to sell.. .
What is amusing is that the agent put into the remarks section of the listing:
"Owner Wishes for a Quick Sale"
Talk about Fifty Shades of punishment for this poor seller...
In any case that Realtor has missed her calling. She should be training agents how to keep their clients happy when selling a property.
She could make a fortune with her techniques!
I wonder the reason why it took this Realtor 3117 days to sell this property?
I know that there are only 3 general reasons why homes do not sell. . .
Price, Condition & Marketing
I imagine this question was asked at some point during the process. .
"Don't we have to start high so we can come down?"
and as they days passed, they dropped the price but not enough to be a contender with the competition.
"Should I remove my collection of stuff that I accumulated for the last 25 years before showing the property?
"Nawh" . . it will be alright!..let's put it for sale!"
They should have know...that appearance is critical, and it would be foolish to ignore this when selling a home.
You may not be able to change your home's location or floor plan, but you can do a lot to improve its appearance before putting it in the market.
What about the marketing?
When selling your home, make sure that your largest asset is given the maximum exposure it deserves
No one looks pretty in the dark!
Feb. 11, 2015
"The Neighbor From Hell"

Q: I just arrived in DC yesterday. Before my movers were scheduled to come I had a guy come out to give me an estimate on putting a fence in front of the rowhouse I just bought. I haven't even met my neighbors yet. And the next thing I know my neighbor if raising his voice at me telling me that "we are going to have a problem" if I put up a fence and we are going to be getting off on the wrong foot. Never mind the fact that I had literally met this man ten seconds prior to this. I went in the house and listened to the fence guy and honestly won't do the fence because it is way more expensive than I anticipated. But I don't want to make this guy think that he won. He kept on going on about how the neighborhood used to be a certain way and there is his mom has been there fifty years and he grew up in this house and no one else on the block has fences.

I am really at a loss. I have read over and over how you should be mindful of older residents and try to be accommodating, but I literally don't know what to do when I get accosted about something I'm only thinking about doing only 24 hours after moving in.

I'm thinking about putting a fence up for spite.
What would you guys do?

Question asked and answered on DCUrbanmom.com

A: Definitely don't do anything just for spite.
The moment you do that..
you lose
your honor
and
your principles.. .
Pretend this person is crazy and deranged ...which most likely he is.
Pretend he is a child living inside an adult body
I would ignore him and simply go on living with purpose. . .
Many years ago, I sold a house before when the neighbor refused to help us tidy his yard...
he was yelling at my clients from his front yard, deranged and all crazy
..cussing them for daring in asking him to cut his grass.
There was no HOA on the neighborhood and neighbors in general kept their yard tidy and neat..
Except this neighbor from hell.
The bully of the neighborhood
He was definitely making my listing look bad...
Potential buyers were driven away. . who wants to live next to foot high grass with trash littered all around?
"Most real estate experts all agree that curb appeal is one of the most important aspects to consider when selling your home.
When selling, it's the appearance from the street that determines if the buyer never gets out from their car or not "
In this case...buyers and Realtors were not even getting out from their cars!
I decided to do something about it. .
I knocked on his door
and
brought him some cookies!
After a brief introduction,
I explained him that it behoove him that we sell the neighbors property for as much as possible
so that his property can go up in value!
That would mean more money for him when he sells his house..later on.
I offered to send my crew to clean & cut his yard...
he accepted politely. .after I assured him that that was no trouble at all..
"We have money allocated for this and it will be no problem for us."
It cost me $150 plus some cookies from Subway..
I defeated him with charm. .
and a very strong weapon. .
Chocolate cookies!
Sold the house...and my clients were very happy. .
The bully neighbor was happy. .
I was happy..
and life moves on. .
Do you have a Subway Restaurant close by?



____________________________________________________________________
Send the Tiger of Real Estate a question:
If we feature it on our website, you will receive a $10 Starbucks coffee compliments from the tiger....
info@ReallyNiceHomes Subject: Tiger of real estate question


More tiger questions....HERE


Feb. 11, 2015
Q:
Where are all the good deals now that foreclosures in Maryland have decreased numbers?
A:
I got news for you. Foreclosures have NOT decreased, on the contrary, foreclosures for the state of Maryland have increased when you compare it to last year's numbers.
According to the latest "Corelogic National Foreclosure Report" Foreclosures in the nation, have dropped down 34.3% overall since December 2013. The bad news for Maryland is that we are in the top 7 states with the most foreclosures as of February 2015
Is hard to understand that Maryland is put with the like of Florida, Nevada, New Jersey and a few other states that are well known to be always in trouble when it comes to jobs, deficits and housing speculation.
Why are we ranking so high in foreclosures when we lead in the jobs market and low unemployment numbers?
The answer is simple, Maryland simply was too protective of its citizens, providing us with all types of programs and benefits to keep lenders from foreclosing their properties.
There are families still living in Maryland that did not make a single mortgage payment in the last 2 years…some even longer!
Completely different of what our neighbor state of Virginia did for its citizens. Not only they did not protect them… but encourage lenders to take names, foreclose and get those properties back into the market with legitimate home buyers that could afford to pay for them.
This is why Virginia is ranked on the top 10 of states with the least number of foreclosures as of February 2015
If you are struggling paying your mortgage payments…you want to be living in Maryland and not Virginia!
What about Washington DC?
Washington DC is the Mama Bear of its citizens if they are struggling with their mortgages. Lenders must hate it when they see the address of a potential defaulting loan as Washington DC. They know they have to jump through hoops and loops to get a foreclosure processed.
Washington DC is ranked 5th in the nation with the most foreclosures as of February 2015
Going back to your question..
"Where are all the good deals now that foreclosures in Maryland have decreased in numbers? "
The "deals" are there, and they are more prevalent now with low income housing.
Lenders are starting to pay attention to the low value housing and homeowners ( "squatters " ) who are occupying their assets with no payments received.
PG County, Baltimore and low value housing units in Washington DC are getting their notices of default now. A foreclosure forthcoming.
If you are a buyer, you can still find a great deal with these low value foreclosures and convert them to rentals… these families have to live somewhere.
If you are a seller and your home is close to these areas of hardship. The value of your home will be affected and it will be a long time to gain equity under these conditions.
If you are one of those homeowners living without paying your mortgage…
No matter where you live..
Is their house, and you are defined as a "squatter" unfortunately…is time to put a plan together before someone comes and changes your locks!
·

Call your lender and ask for a loan modification if you have the income to qualify for it.

·

Call your lender and ask them if you qualify for a short sale?

·

Call your lender with an attorney and do a "deed in liue of a foreclosure"
Why you should take the bull by the horn?
When a lender forecloses a property, the homeowner will face a deficiency judgment. . Meaning that you give up your keys…but the AMOUNT YOU OWE STILL IN FORCE!
Talk to them directly or hire someone to speak to them in your behalf
____________________________________________________________________
Send the Tiger of Real Estate a question:
If we feature it on our website, you will receive a $10 Starbucks coffee compliments from the tiger....
info@ReallyNiceHomes Subject: Tiger of real estate question
Feb. 4, 2015
Q: My wife and I are having a discussion. She says we should buy a house now and I really think that we should wait for later on the year to buy and see if prices get cheaper... Who is right? Do you think prices will come down?
A: A great question to ask and congratulations my friend...you have a very smart wife!
Aside the fact that the decision to buy a home should be timed based on your needs and not the market, let me give you an explanation of what we are expecting on prices this year.
A recent post from Keepingcurrentmatters.com indicated the cost vs price difference in housing for 2015 to be higher at the last quarter of 2015.
This is a little hard to understand from a buyers point of view, specially if you are not a regular follower of real estate market statistics...
But here's a brief explanation what this means for you:
Should I buy a house in the first quarter of 2015?
or
Should I buy a house in the last quarter of 2015?
A nationwide panel of real estate experts, including economists and investment market strategists have predicted that home values will appreciate for at least 4% by the end of the year
Additionally as they look at mortgage rate form Freddie Mac most recent commentary and projections, there is a consensus that interest rates will appreciate to 4.5 by the end of 2015
What is the bottom line if you buy now or wait until the end of the year?
This is a demonstration of what is your bottom line if you wait to buy now in dollar amounts
Taking as an example buying a typical $250,000 home today.
Easy to understand.
If the economists are right, for a $250,000 house, you will be paying $172.32 more per month. .
On a typical 30 year mortgage, you will end up paying a total of $62,035.20 more at the end of your loan.
Now the question comes again..
Should I buy a house in the first quarter of 2015?
or
Should I buy a house in the last quarter of 2015?
The answer is YES if you want to save around $60,000 in the next few years...
And you should buy your wife a diamond ring. ..for saving you all this money!
--------------------------------------------------------------------------------------------------------------------------------------------------------
Send the Tiger of Real Estate a question:
If it make is to our website, you will receive a $10 Starbucks coffee compliments from the tiger....
info@ReallyNiceHomes Subject: Tiger of real estate question
Jan. 20, 2015
How To Sell Your Own Home in Maryland
: Home Selling Tips & Precautions
How To Sell Your Own Home in Maryland?
Thinking of selling your home yourself?
Thinking on selling your home on your own?
For Sale by Owner (FSBO) There are some people that sell their home the FSBO way.
The majority of these sellers do it because they know the person they are selling it too. Most often this involves family members or close friends.
But in most cases they sell their own home to avoid paying a commission to an agent.
This is a risky move for anyone to try as it reminds me of a time when I met one of my clients for the first time..
First, allow me to introduce myself.
My name is Fernando Herboso, I'm the broker for Maxus Realty Group in Montgomery County Maryland.
I would like to take this opportunity to tell you about this client of mine that had to sell his home and was looking for ways to save money.
He had a dilemma, as he was considering selling his home on his own in an effort to save commission, but he also knew that selling his home as a FSBO was too time consuming and too risky for him.
Luckily he listened to my presentation as he realized that a very small percentage of FSBO are usually successful.
Why try to overcome the odds and take on the difficulties of creating marketing systems just to sell one home?
I reminded him that my systems were already in place as my company spends thousands of dollars each month making them run efficiently for all our listings...
That's when I decided to create a postcard that depicts clearly the difficulties for all For Sale By Owner candidates trying to save on commission fees.. .ignoring the facts that it takes time and money to market a home...if you want to achieve the highest value possible.
Here is what we created:
The odds of overcoming the difficulties in selling a home by creating system from scratch.. .simply does not make any sense these days...
This is why my client realized that he had to employ the services of a full time real estate professional, (that is) if he wanted the odds on his side.
I introduced to all my "Home Selling Systems" one evening at his home. I showed him how we were able to attract buyers for our listings as we multiplied the number of showings by 10 in just the first 7 days we had it listed.
The home was SOLD soon after in just in 27 days, and he was able to save thousands of dollars on commission fees by "NETTING" more money at the closing table.
Should you decide, at any time, that you could benefit from the expertise and skills of a professional Real Estate Agent with a proven track record of success and marketing systems ready to promote your home..
I'm only a phone call away (301-246-0001)
You are under no obligation and I can assure you that our meeting will allow you to explore your options even more so. . .
Should you use a ZESTIMATE to sell your house?
I also invite you to watch this video and see how a Zestimates may or may not help you sell your house...
How To Sell Your Own Home in Maryland
: Home Selling Tips
Nov. 7, 2014
22543 WINDING WOODS WAY

, 

CLARKSBURG

, 

MD

   

20871
A Really Nice Home For Sale 
Large, sophisticated and casual
 Featuring  upgraded appliances, morning room, luxury baths, luxury kitchen  and many more extras..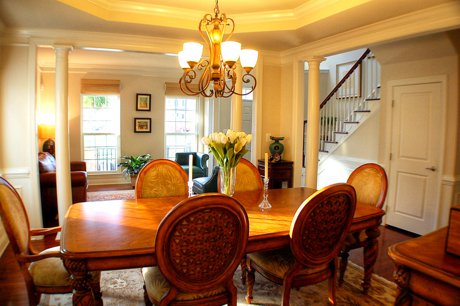 Separate Dining Room...
Deck with a View. . wooded lot!
CALL 301-246-0001 For More Information
Maxus Realty Group is a full service Maryland real estate company operating in Clarksburg Maryland. Our team is dedicated to providing you with assistance in any aspect of real estate within Maryland DC and Northern Virginia areas. Including
Clarksburg Maryland
  Montgomery County,Frederick County , PG County, Washington DC, Arlington, Alexandria,  Fairfax and Loudon County
Let us know if you would like to see this beautiful Home..
    BROKER ♦ REALTOR® 
HERBOSO & ASSOCIATES, LLC  
301.246.0001
22543 WINDING WOODS WAY

, 

CLARKSBURG

, 

MD

   

20871
Oct. 28, 2014
Rent Or Buy - Which Is Better?  
Maryland Real Estate 
This is  a question that I get asked many times in some form or another.Usually, it comes from young couples that are just starting out are wondering?
Rent or Buy? Which is better?
The problem with this question is that

there is no standard answer that fits everyone..
It depends on many personal factors  that when put together, it will paint a clear picture whether you should buy or rent...
Some of this personal factors include, 
What is your monthly income?
What about your existing debts?
How long do you plan to live there?
How much money do you have saved up for the down payment?
What is your credit score?
What is the current real estate market in your area?
What is the current rental market in your area?
Taxes?, marital status?, economic growth of your area?
and on and on..
If you're serious on your decision to buy a home, you should consult with a professional that have a vested interest in helping you succeed.
Millennial is a new term for new age buyers coming into the real estate market
They have seen with their own eyes the real estate bubble that exploded on their parents homes in the 2005 -2007 real estate crash
Precisely why they are now questioning more than ever...
But my advice will always be...
Should you make a decision to buy or not based on what your parents experienced in the past?
or...
Base it on what your needs are on your  personal future?
When does buying a home makes sense?
When it fits your plans!
Rent Or Buy - Which Is Better?  Maryland Real Estate 
Oct. 27, 2014
What Credit Score is Needed to Buy a Home in Maryland ?
First of all,  you might be wondering which credit score mortgage lenders use?
Equifax?

Transunion?

Experian?
I get this question a lot and I'm not sure why?
There's no sense focusing on something that only lenders have control of it, the fact remain that you need to be credit worthy  to be a borrower.
All lender determine your creditworthiness by pulling your credit score.
But if you must know, the answer is your FICO score and that is an standard being used with most lenders in general. 
Your FICO score is a combination of the 3 listed above...which are the three main credit bureaus. 
If you are looking for the perfect "LOWEST CREDIT SCORE" you must have and get the best pricing from a lender...you will need at least 760 points.
If you have any mistakes or missteps inside your credit report, you must deal with them before buying a home if you want the best rates possible...and  in some cases, this could take several months.
Maybe you will find that  your credit score is not sufficient for you to get a loan. Your income and the ratios play an important role in determining how much credit you can get.
This is a very personal conclusion based on your own  credit score, your income ratios, your debt amounts...and a few other important relevant facts. I caution for you NOT TO DISQUALIFY yourself...but have a professional evaluate your whole application for the best advice possible.
In summary, the only thing you have control over your credit score is to keep up diligently with your bills, don't wait until the last minute to pay them, don't  over burden yourself with so much credit and be responsible and strive fro perfection when it comes to paying your bills...
If you have low credit scores, do not get discouraged, there are ways to raise your credit up with the right help...call us if you need assistance on this 301-246-0001.
What it takes to get a loan plus information about grants when you are a first time home buyer?  
What Credit Score is Needed to Buy a Home in Maryland ?
Sept. 23, 2014
Maxus Realty Group is Proud to Introduce..
728 Richmond Avenue Silver Spring
A Brand New Home For Sale 
Elegant | Expansive | Gorgeous | New Construction| Available Now!
A perfect location you could not ask for more..
Just seven miles from the White house, inside the "Beltway" in the Washington Metro area
Brand new construction in the Silver Spring Maryland area. 
Check out all these amazing features inside our exclusive eBrochure | Click Here 
See some of the features in the videos below..
Amazing new construction home steps away from Downtown Silver Spring MD .
First Time offering of this magnificent estate.
Prime location to DC, Silver Spring Downtown, the Metro and the Beltway.
THIS IS NOT A REHAB! but a brand new home from TOP TO BOTTOM constructed in an existing foundation using the latest and most modern materials in and out.
Sprinkler system included..
HUGE Bedrooms and Bathrooms
Wood Floors
All New Construction 
Warranty
      Call 301-246-0001
For The Latest Pricing! 
Impressed? Sell My House too! 
728 Richmond Avenue Silver Spring
| Maryland Home For Sale 
Silver Spring MD Latest Listings